Tank Repair, Renovation & Upgrading
TIV Energy Co. has extensive experience in the repair and refurbishment of containers and storage tanks. All work is planned in detail, adapted to the individual requirements and the execution is documented with static calculations, drawings, welding- and inspection-plans. A safe execution of the repair- and refurbishment-work taking into account the API 653 & relevant safety regulations and the creation of a risk analysis is a matter of course for our experts. We provide the experienced personnel capable to assure quality service for aboveground and underground tank removal & demolition.
The following is a selection of the most common work & services:
Tank Bottom
Repairs such as replacing bottom plates, bottom plates doubling, re-welding, welding.
Subsequent installation of the tank bottom sump
Installation of a new tank bottom
Replacement bottom edge plates, and annular plates below the lower first course
Tank Removal/Demolition
proper hazardous substances removal and remedial action
Permit filings as required by local agencies
Soil sampling, tank certification, and closure reports
Tank support concrete removal and replacement
Tank Foundation Renewal
Exchange of e.g. corroded shell plates
Extending of the tank shell to increase the volume
Installation of additional stiffening rings on the tank shell e.g. due to a change in the design parameters of the tank or due to an adaptation to current standards
External & Internal Floating Roof
Repair or replacement of the roof membrane
Repair or replacement of roof pontoons
Leak testing of pontoons
Conversion of pontoon floating roof into double deck floating roof
Repair or replacement of existing floating roof seals
Supply and installation of new floating roof seal
Retrofitting secondary seal
Fixed Roof
Repair or replacement of the roof plates
Repair or replacement of the roof structure
Additional reinforcements to the existing fixed roof e.g. due to a change in the design parameters of the tank or due to an adaptation to current standards
Replacement of the entire roof
Tank Bridge Design and construction
Upgrading of Existing Tanks
Conversion from floating roof tank into fixed roof tank
Retrofitting ALU Dome on floating roof tank
Retrofitting floating roof
Increase in volume
Changes in the design parameters (e.g. increase operating temperature and pressure)
Adaptation to store new liquid
Adaptation to new storage products (such as jet mixers, new firefighting technology)
Adaptation to current standards edition
Equipment
Nozzles and manholes repair or replacement
Floating suction skimmer
Tank heaters
Safety fittings
Fire-fighting equipment & system
Floating roof sealing & drainage systems
Instrumentation upgrading
Working Capacity Optimization
Existing and new asset evaluation and recommendations
Low-profile floating roof options
Suspended floating roof options
Low-profile secondary seal options
IFR travel constraint evaluations and suggested modifications
High liquid level & low liquid level alarm level evaluation and recommendation
Revise under IFR obstacle to provide larger Travelling span for IFR
Tank Inspection and Evaluation
In order to assure your Storage Tanks compliance with the relevant Standards and Codes, we provide Technical Audits according to EN 14015, API 650 or 653, EEMUA 159 or Clients' Specifications. We perform independent assessment, testing and verification for storage tanks. We are in the position to integrate and manage not just a list of standard techniques but solutions using a combination of multiple techniques. These Inspections include:

Tank foundation and settlements evaluation
Tank bottom evaluation
Tank shell evaluation
Tank roof evaluation
Tank access evaluation
Tank security instruments check
Tank environmental study & risk analysis
Survey of repairs
Laser Scanning & 3D modeling
Tank Calibration Solution
Periodic visual external and internal inspections
Fugitive emission and leak detection through infrared camera
Mechanical integrity study
Floor scan/Magnetic Flux Leakage
Corrosion Mapping
Tracing of system leaks and determination of material strengths
Hydrostatic pressure tests
Determination of water and sludge inside containers
Determination of subsoil corrosiveness
Safety systems control
External thickness measurements and calculation reviews
Adjustment and stamping of identification plates
Emission Reduction Solution
TIVENERGY Co. offers a comprehensive portfolio of strategies to reduce aboveground storage tank emissions. From high-impact products such as welded full-contact roofs and geodesic domes, all the way down to leg socks and gauge pole sleeves, we can provide for you with not only the products but also the expertise and strategic guidance to optimize your tank performance and emissions reduction for regulatory compliance.
Emissions reduction solutions include:
Existing and new asset evaluation and recommendations
Best available control technology in IFRs (full-contact, welded, suspended)
Clear-span aluminum domes to retrofit IFRs
Clear-span aluminum domes for new tanks to eliminate column penetrations
Leg socks, vapor cover, gauge pole sleeve.

Tank Foundation Renewal
Tank lifting and renewal of the foundation of the tank
Placement of an additional concrete layer in the tank
Preventing tank settlement
Miscellaneous Repairs & Service
Hot Tapping and Cold Cut Services
Secondary Containment Construction
Tanks Paint & Lining Removal & Re-Furbish
Tank Cleaning, Sludge Removal & Treatment
Routine and Emergency Tank Cleaning
Sludge Removal
Sludge Treatment & oil Recovery
Degassing Solutions
Tank Accessories and Auxiliaries
In order to provide inclusive services of storage, we have commitment to provide the best selected accessories to enhance more reliable and safe operation of storage tanks.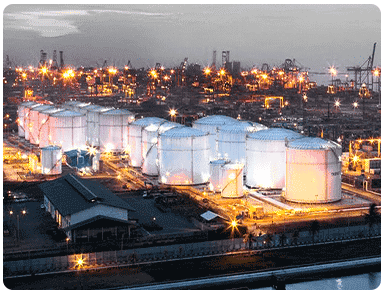 Tank-farm & Terminal Services
Consultancy Services and Solutions
TIV Energy Engineering and Construction Company as a member of Namad San'at Pars (NSP) industrial group, is a leading contracting company in the field of oil, gas, and petrochemical industry, utility (water, electricity, steam and catalyst), power plant, industrial, mining and chemical industries which implemented many design and construction projects since 1997.